The World Education Research Association (WERA) came into being on April 18, 2009. WERA is an association of national, regional, and international specialty research associations. Its express aim is to further education research as a scientific and scholarly field.
EASA is a founding member of the World Education Research Association (WERA). This privileges EASA members who consequently have access to WERA's considerable networks and resources. WERA-related opportunities have urged EASA members toward special sensitivity to education issues with relevance to the global south, without neglecting south-north discourses and knowledge exchange.
Call for Submissions – WERA 2024 Focal Meeting UK

Deadline for Submission: 31 January 2024
Click to download PDF for further details
Submissions for WERA Invitational Symposia: 15 February 2024 – 15 March 2024
Dear Association Member Representatives on Council,
The World Education Research Association (WERA) 2024 Focal Meeting will be held in-person from 8-12 September 2024 at the University of Manchester, United Kingdom (UK) in collaboration with the British Educational Research Association (BERA).
WERA FOCAL MEETING INVITATIONAL SYMPOSIA:
As has become customary, we are inviting each WERA Association member to organise an Invitational Symposium at the WERA 2024 Focal Meeting. We think it is important for every WERA Association member to participate visibly in the WERA Focal Meeting and be seen as an integral part thereof. Given feedback following the previous WERA Focal Meetings, we would again like to foreground the vibrancy of research, including and especially international research, within each country or region that constitutes WERA. We have seen how it adds to the importance of worldwide meetings to show the depth of education research and the important role of WERA in stimulating research and creating linkages around the globe.
SUBSTANCE OF THE WERA INVITATIONAL SYMPOSIA:
We ask each of you to take the lead in organising a research symposium of high quality and merit with whomever you wish to work within your Association. These symposia are an opportunity to feature key research in your country or region. A symposium provides opportunities, not afforded by a single paper, to examine a specific education research problem or topic through an international, comparative, or worldwide lens and to bring to bear diverse perspectives, intensive discussion, or a wide range of expertise.
FORMAT OF WERA INVITATIONAL SYMPOSIA:
The format must follow the same guidelines and provide the required fields for symposia as depicted in the WERA Call for submissions for the WERA 2024 Focal Meeting. Therefore, each Invitational Symposium must indicate:
750 word abstract of the symposium, and must include the title and a paragraph about each paper (minimum of 3 papers and maximum of 5 papers in the symposium) in the symposium.
There is an additional 250 words for references.
The symposium as a whole must have a clear focus and each paper therein must be clearly related to the overall focus/theme of the symposium but also offer distinct perspectives.
If your abstract does not include a paragraph under the title of each paper, it will not be considered as an Invitational Symposia. Successful symposia will be allocated a 90 minute session.
Invitational Symposium proposals are submitted by an organiser who may or may not be a chair, presenter, or discussant. A WERA symposium includes a chair and discussant and between three and five participants. Participants include all presenters and any discussants.
The symposium can include presenters from other countries or regions – although this is not obligatory.
Assuming many or most of these symposia may focus on research or research policy issues within your own country or region, we do however ask that one participant (a possible commentator / discussant) consider the implications from a more international, comparative, or worldwide perspective.
We encourage drawing upon the research scholars with substantive expertise on the symposium topic you develop.
Of course, you or another leader from your Association may serve as a Chair even if outside of your own expertise.
Please do not invite each other (across Associations) to participate in these symposia.
SUBMISSION OF WERA INVITATIONAL SYMPOSIA:
Invitational Symposia will not go through the process of review that open submissions do in response to the WERA 2024 Focal Meeting Call. As the quality assurance is already screened by the relevant WERA Association member submitting the session.
Invitational Symposia must be submitted ONLY between 15 February 2024 – 15 March 2024.
Please do not submit any WERA Invitational Symposia through the open Call submission platform currently available.
Association members will be provided with the appropriate link for submission of Invitational Symposia in due course.
The submission platform for Invitational Symposia will be accessible from 15 February 2024.
No Invitational Symposia submissions will be accepted after the deadline of 15 March 2024.
The email comes with our warm regards and our excitement about this collaborative programming. As these are flagship WERA scholarship spaces, we aim for 100% participation for all WERA Association members. We look forward to receiving your Invitational Symposium between 15 February 2024 and 15 March 2024.
Please don't hesitate to contact us if you need any additional information.
Kind regards,
Rocío García-Carrión
WERA Secretary General
Call for WERA-IRN Proposals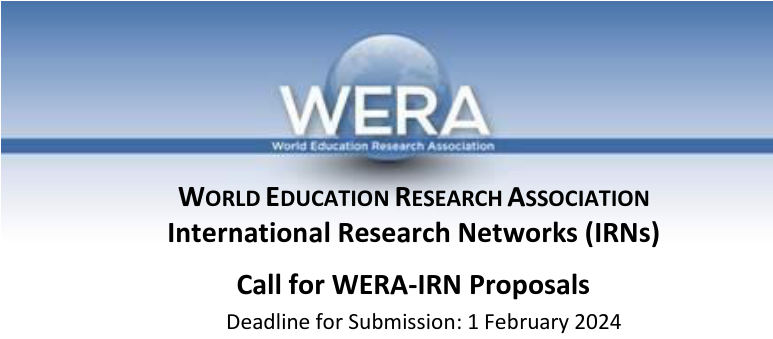 Deadline for Submission: 1 February 2024
WERA Visiting Researcher Award Call 2023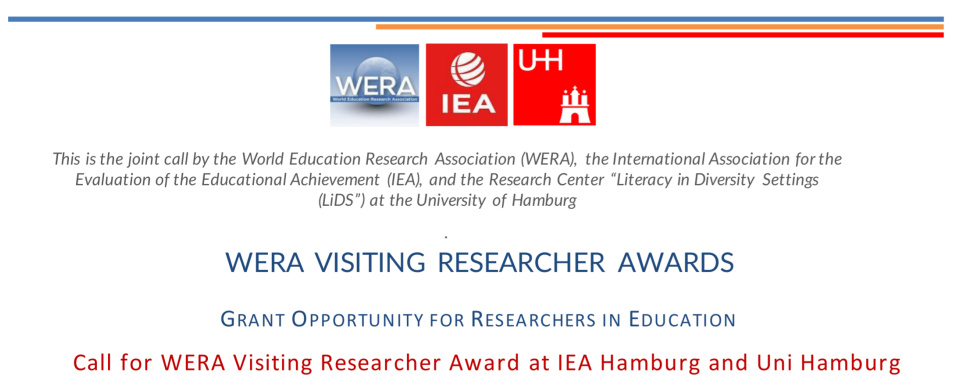 In collaboration with the World Education Research Association (WERA), the International Association for the Evaluation of the Educational Achievement (IEA), and the Research Center "Literacy in Diversity Settings" (LiDS) at the University of Hamburg, we warmly invite early stage researchers and experienced researchers engaged in educational research from all nationalities to apply for the WERA Visiting Researcher Award.
This award enables visiting researchers to develop their own research project while benefiting from the individual support of experts from the partner institutes working in different fields related to international large-scale assessments, especially with a focus on diversity in education. The awardee will be privileged with direct access to data and resources of the partner institutes in carrying out their research projects.
Applicants are requested to send all documents via email to wera@aera.net and insert 'WERA- Academic Researcher Programme' into the subject of their email when submitting the application. The deadline for the application is April 1st, 2023.
Click to download PDF for further details.
Call for WERA-IRN Proposals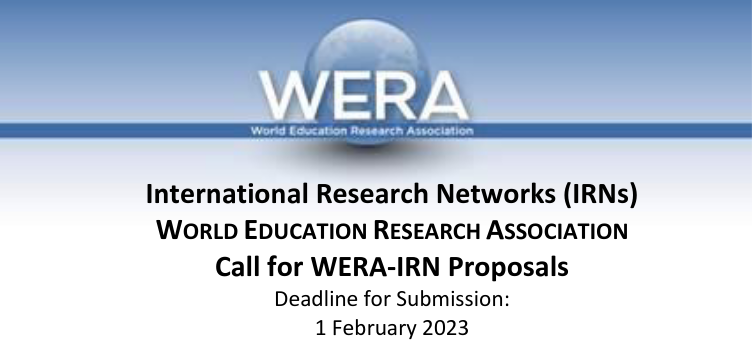 Deadline for Submission: 1 February 2023
Click to download PDF for further details.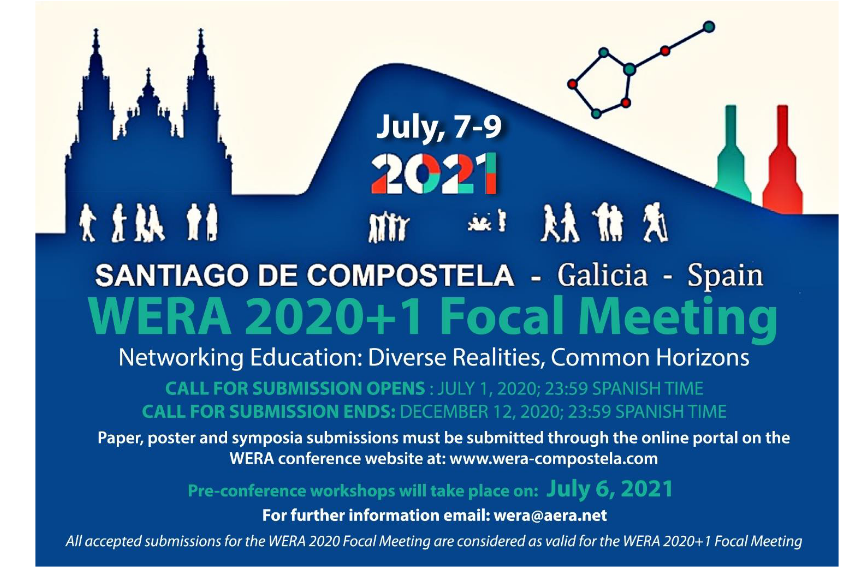 Call for submissions
The final deadline to submit is 12 December 2020; 23:59 Central European Time.
Click here for further details with regards to guidelines for Submission to WERA Focal Meeting.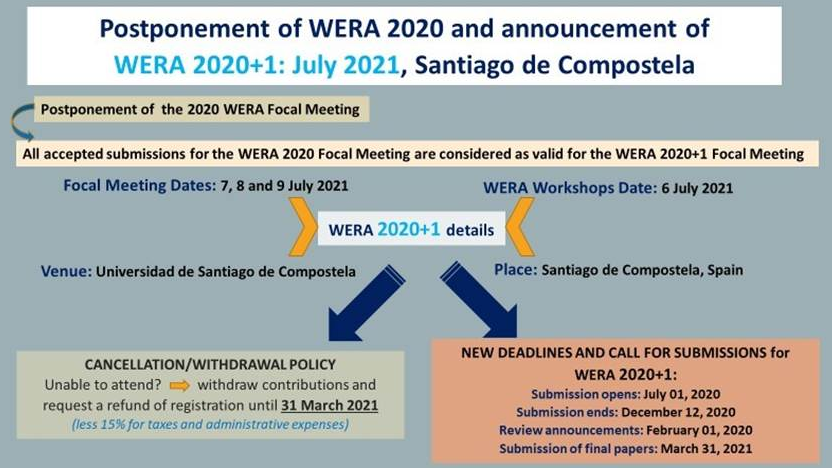 World Education Research Association Focal Meeting 2020
Networking Education: Diverse Realities, Common Horizons
Together with the 17th Spanish & 9th Ibero-American Education Conference.

The World Education Research Association (WERA) is an association of major national, regional, and specialty education research associations dedicated to sharing scholarship, developing networks, and mutually supporting capacity building.

Each year, WERA holds a Focal Meeting in conjunction with the Regular Meeting of a WERA member association. Previous WERA Focal Meetings have been held in Kuala Lumpur, Malaysia (2010); Kaohsiung, Taiwan (2011); Sydney, Australia (2012); Guanajuato, Mexico (2013); Edinburgh, Scotland (2014); Budapest, Hungary (2015); Washington DC, USA (2016); Hong Kong, China (2017); and Tokyo, Japan (2019). In 2018, the first-ever WERA World Congress was held in Cape Town, South Africa.

The WERA 2020 Focal Meeting will be held in Santiago de Compostela, Spain, from 1st to 3rd July 2020. The main theme of the meeting will be Networking Education: Diverse Realities, Common Horizons. The Meeting is an integral part of the 17th Spanish & 9th Ibero-American Education Conference, organized by the Spanish Pedagogical Society (SEP) and the University of Santiago de Compostela. As one of the founding members of WERA, the Spanish Pedagogical Society is pleased to host this event.

The WERA Focal Meeting seeks to feature research that includes more than one country or is comparative, cross-cultural, international, or transnational in conceptualization, scope, or design. The WERA 2020 Focal Meeting will consist of a program of paper, posters and symposia sessions on topics of world-wide extent.

The Organizing Committee of the WERA 2020 Focal Meeting is very much looking forward to receiving you at the historical city of Santiago de Compostela and we wish you a 'Good Camino'.

For more information, click on the link below: http://www.wera-compostela.com/index.htm
The World Education Research Association (WERA) invites submissions for papers, symposia, and posters for the WERA Focal Meeting to be held from 1-3 July 2020 at the Universidad de Santiago de Compostela, Spain. Founded in 2009, WERA will be celebrating its 11th anniversary at the Focal Meeting in Spain.
Download The call for submissions
The call for submissions for the WERA Congress 2018 in Cape Town has been extended – please click on the link below for more details